Session 1 - Data Visualization
R, the Tidyverse, + Making Good Charts
September 10, 2021
Overview
This is an overview of the September 10th session of LBJ Data Studio. Matt Worthington led today's session and Ethan supported participants for the duration of the session.
LBJ Studio Dates + Formats
Below are the dates and formats of the session. Our original plan was to eventually hold these in-person, but they will be held on zoom for the first few sessions. The session referenced on this page is highlighted in bold.
Zoom Session: Sep 10, 2021 at Noon
Zoom Session: Sep 24, 2021 at Noon
Zoom Session: Oct 8, 2021 at Noon
In-person: Oct 22, 2021 at Noon in Room 3.124 at the LBJ School
TBD: Nov 5, 2021 at Noon
TBD: Nov 19, 2021 at Noon
TBD: Dec 3, 2021 at Noon
What's Covered In This Session
For this session, we focused on the following topics.
Navigating Rstudio
Rstudio Interface
R Projects
Basics of ggplot2

ggplot()
aes()
geom_*()
scale_*()
theme_*()
labs()

Exporting Data & Charts
Session Materials
Github Materials
Below is a link to the materials used during the session. Participants followed along with the materials in the slides using the series of R Scripts below. To download the materials, you'll need to visit Github and download from there (see screenshot below). Once downloaded, place the files in a location on your computer (example: the desktop or documents folder).
Note for Windows users: will want to make sure to extract the downloaded zip before working with the materials.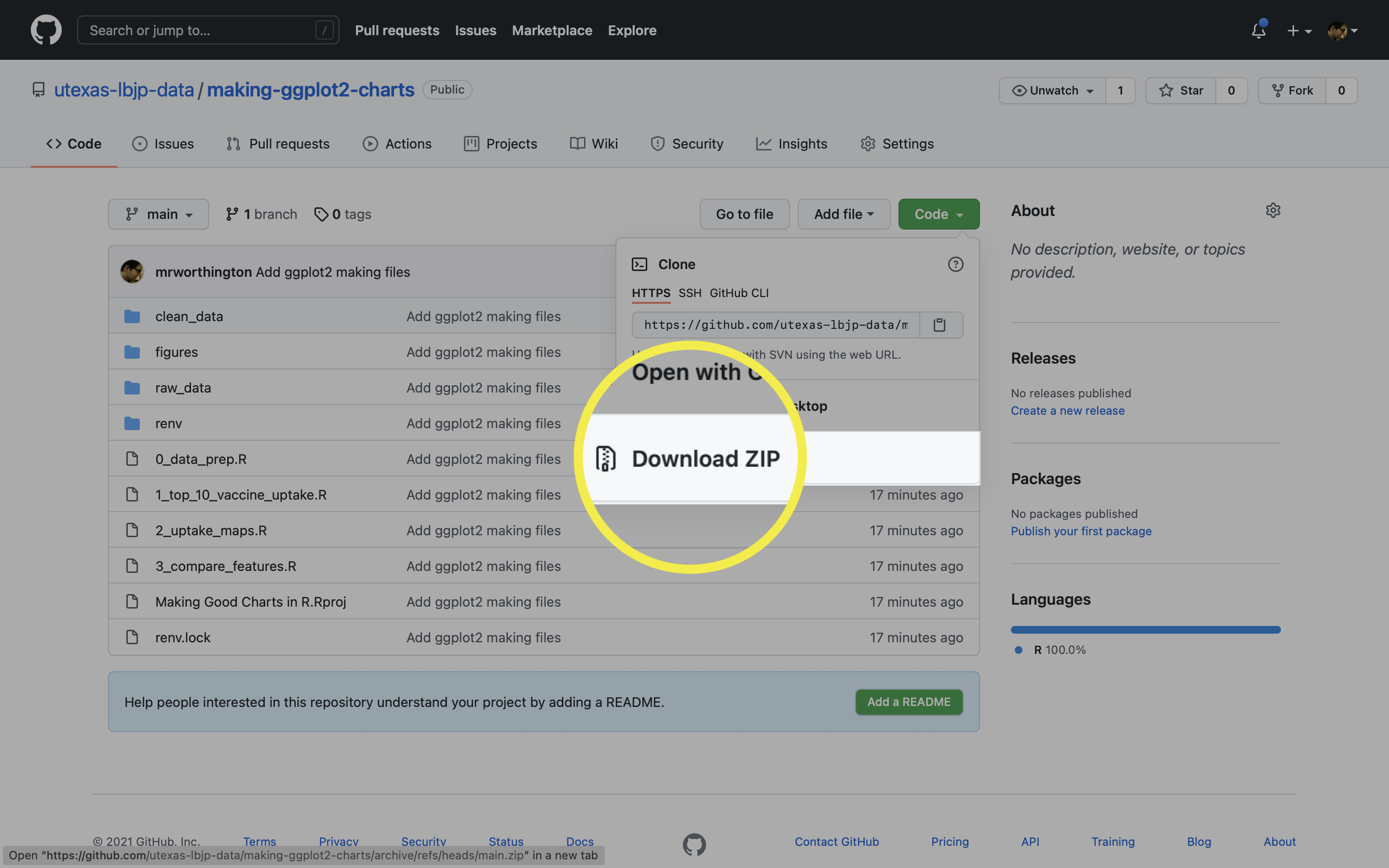 Reference Materials
Below is a list of useful resources for learning ggplot2. They won't cover everything you'll want to know, nor will every resource here resonate with you. Rather, different resources will likely resonate with different people. Nevertheless, all of them are great and come highly recommended by folks across the world of R.
Acknowledgements
Photos used in the slide deck by Tim Arterbury and Leonardo Corral on Unsplash